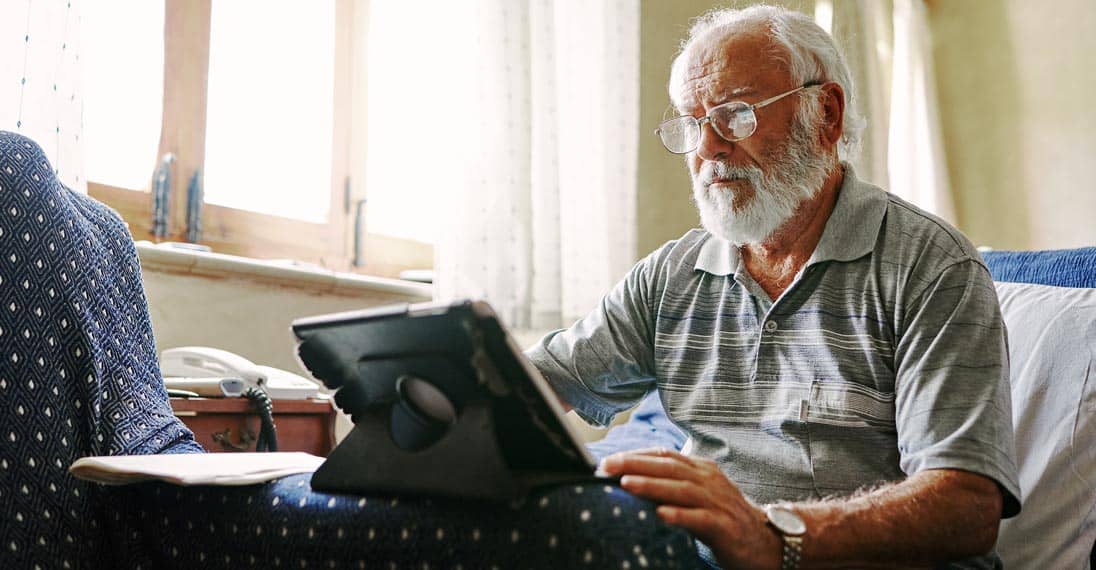 Connecting With Care Webinar – 'Spotlight on Consumer Digital Health Literacy'
In our Community Options Australia (COA), 'Connecting With Care' series of webinars, two speakers from Australia Digital Health Agency (ADHA) took the group through some of the agency's plans for their Consumer Digital Health Literacy program.
Dr Fiona Martin, Director of Digital Inclusion and Community Engagement and Ben Cohn, Acting Director for the Education and Adoption team at ADHA, started by sharing the strategic priorities for FY21-22 in consumer digital health literacy.
Ben outlined the strategic priorities that spanned seven program pillars, including 'My Health Record' (MHR), which housed 'Digitally Enabled Aged Care' and 'Workforce Education', which covered the area of Consumer Digital Literacy.
Fiona then took us into more detail about the two phases of the program. In Phase 1, more than 14,000 consumers attended education and events. Currently, Phase 2 is rolling out over the next two years, covering phases of design, implementation and tailoring, and the launch of a longer-term program in Q2-4 of FY22-23.
In the longer-term program, there will be a core curriculum tailored for;
Aboriginal and Torres Strait Islander Program
My Health Record education for diverse population groups
Youth
Focus areas and commitments in the next National Digital Health Strategy, e.g. for specific chronic conditions such as diabetes
Connecting with other Government programs
Resources for healthcare providers about specific population groups
The success measures for My Health Record (MHR) that are currently in development were shared. They spread across stages of consumer involvement of people directly managing their own MHR records. The aim is to have a progression of consumer engagement going through six steps;
Awareness – Consumers are aware MHR exists, and their record exists
Trust MHR – Consumers are willing to entrust their data with MHR.
Passive engagement – Consumers accessed, explored and exited their MHR
Informed consumer – Consumers encourage their Health Care Professionals (HCPs) to engage with MHR actively, asking clinicians to upload or prompt service providers
Active user engagement – Consumers actively check their health records
Self-manage engagement – Consumers actively contribute to their MHR record and use it to track health actions
For older Australians, a focus of tailored services for residential aged care and 'ageing in place' was shared. The areas of focus were;
Carers of Older Australians
Older Aboriginal and Torres Strait Islander People
Older Culturally and Linguistically Diverse People
LGBTIQ+ Elders
Rural/remote Older Australians
Living with dementia, disability, mental ill-health and chronic conditions
Advance care planning
Fiona noted that ADHA was partnering with nine peak bodies to develop the program and that 70% of libraries had already been trained in My Health Record to help consumers.
Ben brought the presentation to a close with a list of questions for the group. The questions were;
What is critical for us to consider as we tailor the program for aged care consumers and carers?
What existing delivery structures could we leverage to deliver the program in an aged care setting?
And to support people ageing in place?
What digital health literacy do your member services need, e.g. My Health Record, electronic prescriptions education?
Questions from the group ranged from integrating My Age Care and My Health Programs to issues concerning access, affordability and usability of technology.
Andrew Harvey, CEO of Community Options Australia (COA), commented on the critical area of interoperability of systems talking to each other, and Fiona echoed the need to treat every person within a group, such as Older Australians, as individual cases.
After a good deal of discussion, Fiona brought the point of the complexities people face in their lived experience home with a story about her mother, living in a rural setting and with little ability to use technology. In an invitation to the group to help, she said, 'We really want to get to that pointy edge of practical suggestions based on your lived experience as people and consumers, who may have family members who are older Australians and are carers for them. But importantly in the support role that you play for people in that situation as well.'
The presentation from Fiona and Ben ended with a good appetite for more. Fiona and Ben welcomed following up with more dialogue and answering further questions. It was encouraging to see such involvement from the group in a very positive discussion about the current and near-future of aged care and community services in Australia.
The third and final presentation in the webinar was about a real-world example of the excellent work by COA in our Wellbeing in Aged Care program. We look forward to bringing you details on that highly successful example of reablement in aged care.
To stay connected with more news and forums, follow us on LinkedIn and Facebook.