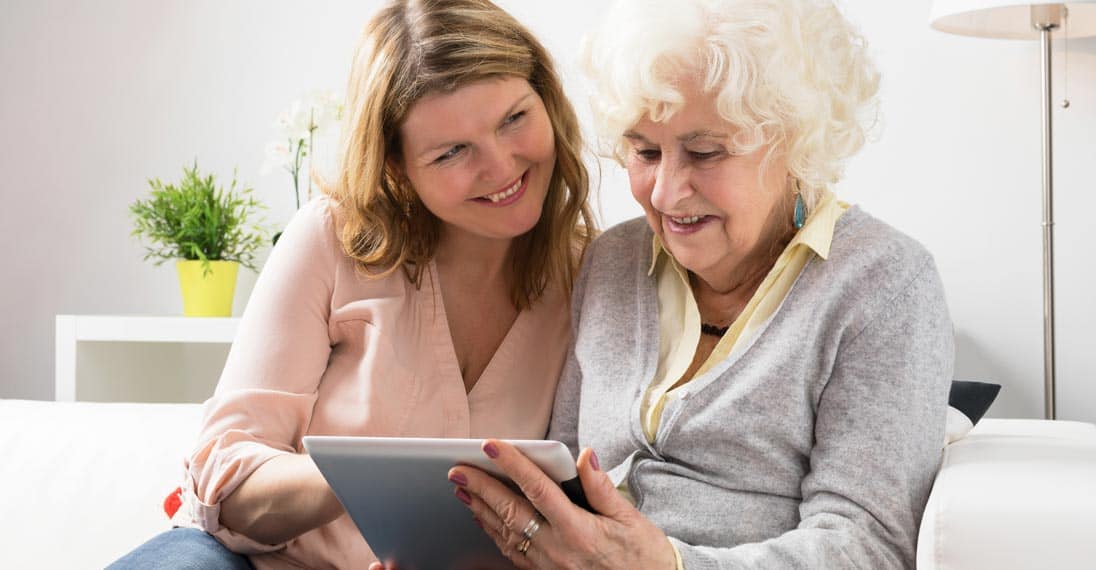 Connecting With Care Webinar – Residential aged care success with the Wellbeing in Aged Care Program
In the final presentation of our Community Options Australia (COA), 'Connecting With Care' series of webinars, Andrew Harvey, CEO of COA, introduced Susan Lackey, Mental Health Clinical Lead at COA and Richard Scenna, Founding Director at YourLink, to share progress in the Wellbeing in Aged Care program.
The program was made possible by funding from Western Sydney Primary Health Network. Susan introduced the program, which provides person-centred mental health support to aged care residents by matching their unique needs to qualified, specialist mental health clinicians.
The program offered six free psychology sessions to individuals in residential aged care. Susan explained to the group that this population of older people in Australia experience isolation at a much higher rate than the general population. Sometimes they experience grief from losing a loved one, which is more common as we age. They also have many changes in their physical functioning and mobility. They might lose their ability to walk or lose their ability to read through loss of vision.
She said that technology was critical for those with dementia which is very common in the demographic. She further explained, "Individuals can use technology to look through family photos, which we've had reports is very calming, and they can also use their devices to listen to music, which evidence shows is very stimulating for their brains, as it helps to maintain their current speech and language, and also actually improves cognitive function in those with dementia".
The importance of building digital skills and the use of technology in residential aged care was highlighted in a real-life example of the lived experience of one resident.
Susan told the group how a woman in residential aged care used technology to help her situation. She said that if residents want to go out to have a GP appointment or any other medical appointment because of COVID when they come back in, they have to go into isolation for five days. This is a standard procedure that means that they are not talking to the residents around them during the five days of isolation, and they're not seeing anyone except staff covered in PPE. This represented a very different way of living for them.
Susan said, "I've been working with an individual who's gone through several lockdowns, being isolated into a room, but in this person's situation, she uses the facility's iPad to FaceTime her son who lives in China almost every day. And she also chats with her grandchildren in Australia. She told me her favourite activity is playing cards. So she plays solitaire on the iPad."
Susan explained how the woman said that the iPad helped when she was feeling bored during these isolation periods and that this tool for her helped her connect with her family. It reduced boredom and helped her feel a lot calmer. She also experienced less anxiety because she knew she could connect with her family at any time. Thanks to the technology and her ability to use it, she doesn't feel isolated from the outside world.
Using telehealth on the iPad has been how Susan and other clinicians have been able to continue their wellbeing sessions together. So even during the woman's isolation periods, Susan has still been able to continue their psychology sessions, which has been helpful.
Susan noted that the technology had significantly increased the overall quality of her life. She concluded, "I would say it's been fairly critical, especially in these challenging times where we're seeing pandemics and floods and things that are stopping people from being able to get to each other".
Richard concluded the presentation with some encouraging program outcome measures. Glowing reports on the program benefits have come from individuals and residential homes. Highly positive changes such as mood improvements, increased socialisation, less isolation and improved health outcomes for residents have been seen.
The digital skills program has increased confidence in using technology amongst residential care facility staff. One participant's comment showed high praise, "Very informative course and we all love it. Thanks so much for guiding us to use all the apps."
It's a pleasure and a great encouragement to share such success, and congratulations and thanks to everyone involved in this highly impactful program. We are excited to be part of the collective effort in improving aged and community services in Australia and would be delighted to share more details. For further information on the program, please do contact us at COA.
More posts on more programs helping wellness and reablement in aged care will be coming soon.
To stay connected with more news and forums, follow us on LinkedIn and Facebook.